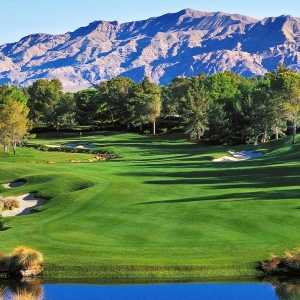 The Global Networking Experience, more commonly known as GNEX Conference which attracts senior-level vacation industry executives representing more than 100+ companies from around the world has announced that they will be holding a golf tournament at the high-roller and celebrity favorite; Shadow Creek Golf Course during its special 10th Anniversary event at the luxurious Bellagio Hotel & Casino, Las Vegas, 18-21 February 2020.
Since 2011, GNEX Conference, which is owned and operated by Perspective Group has offered a unique, ever-evolving conference format which focuses heavily on networking – bringing decision-makers and influencers together to create new business opportunities and learn from each other.
GNEX 2020 in Las Vegas is already slated to be the most attended event to date and now organizers have announced another optional event – a golf tournament at Shadow Creek Golf Club. Primarily reserved for MGM Resorts International high-rollers and celebrities, this elusive course will be available for a small group of GNEX Conference attendees that are prepared to pay green fees, slated to be the most expensive there is!
Players will be transported to the desert oasis by luxury limousine where upon arrival they will be greeted by their caddies for a golfing experience they will never forget. Teams of four will play a variation of the Texas Scramble that will make for a competitive and strategic round of golf, while accommodating all skill levels.
Shadow Creek was the venue for The Match – Tiger vs Phil, held on November 23, 2018 as a head-to-head match where they played for $9 million in a winner-takes-all event. The course was designed by Tom Fazio and built by Steve Wynn. It opened in 1989 on a 350-acre site surrounded by desert, at a reported cost of sixty million dollars.
"GNEX Conferences are all about building new business relationships. The occasional coffee-break at a standard conference just doesn't deliver that – but we have proven over the past decade that shared experiences like these certainly do!" Says Paul Mattimoe, President & CEO, Perspective Group. "Many of our attendees have attended conferences in Las Vegas before, so we are putting our own twist on the Vegas experience for our 10th Anniversary. We already have helicopters, #1 Vegas Show, a poker tournament and now, for those that want it, we've added the most expensive round of golf at one of the most exclusive courses there is."
GNEX 2020 puts the acquisition of new business at the top of its priorities. Attendees are rewarded with unique session formats and interactive networking events that are created especially for the GNEX Conference, and unrivaled access to top level executives that span all areas of the hotel and resort industry including: Resort Developers, Hoteliers, Resort Management Companies, Financiers, Investors, Legal Firms, Technology Providers, Exchange Companies, Rental & Resale Companies, Construction & Renovation Companies, Trade Associations, Online Travel Agencies, Travel Clubs, Vacation Rental Platforms, Sales & Marketing Companies, Consultancy Firms and much more.
For more information on the Golf Tournament, visit https://gnexconference.com/golf
For more details on GNEX 2020 visit https://gnexconference.com
Confirmed sponsors include: Holiday Systems International, INTUITION Brand Marketing, Walltopia USA, Light, Resort Management Services, Wyndham Destinations, Access Development, SPI Software, Jim Madrid, My Travel Club, The Registry Collection, Asociación Mexicana de Desarrolladores Turísticos (AMDETUR), Association of Vacation Owners (AVO), Cooperative Association of Resort Exchangers (C.A.R.E.), Canadian Vacation Ownership Association (CVOA), ARDA Developments Magazine.
For information on Sponsorship Opportunities visit https://gnexconference.com/sponsorship
About GNEX Conference
With a new destination every year, a heavy focus on networking, high-quality events, and innovative format, GNEX Conferences attract senior-level executives from more than 130+ companies across the globe. The conference brings together a unique mix of attendees from traditionally separated segments of the hospitality industry, enabling you to network with companies that specialize in Hotels, Vacation Ownership, Resort Real Estate, Vacation Rentals, OTAs, Travel Agencies & Travel Clubs, plus all the vendors that supply them, including Resort Management, Sales & Marketing, Legal & Financial, Construction & Renovation, Technology, HR & Training and more… For more details on our next event in Las Vegas at the Bellagio Hotel and Casino visit https://gnexconference.com