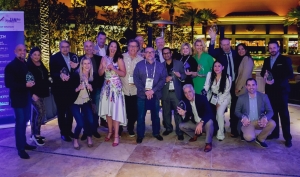 The 12th annual Perspective Magazine Awards were presented at the Finale Party of GNEX 2022 at Encore at Wynn Las Vegas on 17th February.
GNEX 2022 Conference, which saw record-breaking attendance was packed with incredible networking opportunities, enlightening and inspiring general sessions, a golf tournament, a poker tournament and a full buy out and private performance of a hit Las Vegas Show!
Rounding out the event was a Finale Party at Encore which included premium open bar, high-end light food, DJ and close up magician. During this event, the winners of the 2022 Perspective Magazine Awards were also announced and presented with their beautiful crystal trophies.
Considered one of the highest honors in the hospitality industry, the Perspective Magazine Awards recognizes companies and individuals for their achievements within the vacation industry over the past year.
List of 2022 Perspective Magazine Award Winners:*
Best Business Product – arrivia
Best Consumer Product – GuestView Guide
Best Corporate Social Responsibility Program – Grand Pacific Resorts
Best Customer Service – arrivia & Westgate Resorts
Best Customer Service – TaraNova Vacation Club
Best Financial Services – Wellington Financial Group
Best Hotel/Resort Development – Club Wyndham Flynns Beach
Best Industry Leader – Chris Cole, Senior Vice President of Global Membership Sales, arrivia
Best Innovation – Shopping Boss
Best Innovation – Vacation Ownership Advisor
Best Interior Design – Ventus Ha' at Marina El Cid Spa & Beach Resort
Best Legal Services – Wyndham Destinations Asia Pacific Legal Team
Best Management Company – Grand Pacific Resorts
Best Marketing Campaign – Hallmark Channel's Countdown to Christmas Holiday Suites by Club Wyndham
Best Marketing Professional – Nick Baker, Creative Director – Vacation Innovations
Best Membership Program – Advantage Program, Vacation Innovations
Best Newcomer – YACHTVIBES
Best Online Media – Ventus Ha' at Marina El Cid Spa & Beach Resort Launch Campaign
Best Overall Company Under 250 Employees – Vacation Innovations
Best Overall Company Over 250 Employees – Wyndham Destinations Asia Pacific
Best Place To Work – Karma Resorts
Best Place To Work – arrivia
Best Print Media – Westgate Travel Magazine by arrivia
Best Product Development – Vacation SafeGuard
Best Sales Professional – Brittney Cotten, Team Engagement Specialist, Vacations4you!
Best Strategic Partnership – Lloydshare Limited
Best Team – Karma Resorts
Best Team – Edwin Lugo & Iris Addison, HSI Operations Team – Vacation Innovations
Best Technology – Equiant Financial Services
Entrepreneur of the Year – Barry Robinson, President and Managing Director, Wyndham Destinations Asia Pacific.
*Four categories resulted in a draw where awards were presented to two companies per category for Best Customer Service, Best Innovation, Best Place To Work and Best Team.
INTUITION, the innovative Customer Engagement and Business Strategy Agency also honored one of its clients with its Best Customer Satisfaction Award:
Unlimited Vacations Club by AMResorts
All winners received a beautifully crafted crystal trophy and a customized Perspective Magazine Awards logo to use on their websites and marketing material.
Nominations for the 2023 awards will be opening soon and will be held at GNEX 2023 in San Diego.
Upcoming Events include:
GNEX-CRTA 2022, 19-21 September in Toronto, Canada
GNEX-ACOTUR 2022, 15-17 November in Cancun, Mexico
GNEX 2023, 6-8 March in San Diego, California, USA
About Perspective Magazine Awards
Operated by Perspective Magazine, the leading independent trade publication globally for the vacation ownership industry, the global recognition program highlights excellence throughout many sectors of the vacation ownership and hospitality industry. From resort specific awards, through legal, finance, technology, media, design, philanthropy, entrepreneurialism, innovation and more, there is an award to recognize every company that operates within the vacation ownership industry. For more details visit https://gnexconference.com/awards
About GNEX Conference
With a new destination every year, a heavy focus on networking, high-quality events, and innovative format, GNEX Conferences attract senior-level executives from more than 100+ companies across the globe. The conference brings together a unique mix of attendees from traditionally separated segments of the hospitality industry, enabling you to network with companies that specialize in Hotels, Vacation Ownership, Resort Real Estate, Vacation Rentals, OTAs, Travel Agencies & Travel Clubs, plus all the vendors that supply them, including Resort Management, Sales & Marketing, Legal & Financial, Construction & Renovation, Technology, HR & Training and more… For more details on our next event at Hotel Del Coronado, San Diego, visit https://gnexconference.com