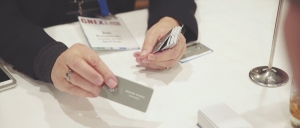 When attendees arrived in Las Vegas in February 2020 to participate in the incredible 10th Anniversary GNEX Conference they could never have known that not only were they attending the first vacation ownership event of the year, they were also unfortunately attending the last conference of the year.
The Coronavirus Pandemic has hit the vacation industry hard this year, but with more resorts reopening in more destinations each month, and airlines tentatively increasing their routes we are now seeing signs of the recovery to come.
That means that it's time to also start thinking about a return to networking. We've all got a lot better at video conferencing for virtual meetings, but that's not the same thing – they only happen with people you already know and are pre-planned. So that's good for existing business but not so good for business development.
The absence of networking has seen the removal of those new acquaintances that you didn't expect, the introductions to new faces by familiar faces that only happen in that fleeting moment that you are all in one place at one time, and the excitement of the possibility of new business development from pure chance encounters.
Except with conferences they are not actually chance encounters. They are in fact pre-determined by your decision to attend the conference; where many more people also made the same decision for the same goal – to accidentally on purpose meet their next client, and perhaps learn a few new tricks of the trade along the way – but make no mistake conferences are, or at least should be, all about networking.
For that reason, Perspective Group who own and operate the GNEX Conference have committed to the "Return of Networking" by announcing that GNEX 2021 (Feb 22-24) will indeed be the first vacation ownership industry conference back since they were unfortunately the last one of 2020.
In a combination of careful and creative planning they have arranged for extended indoor and outdoor event space at the luxurious beachfront Eden Roc / Nobu Hotel that can accommodate, if still needed, full social distancing in the sessions hall, a spacious networking lounge for small meetings and even an outdoor networking event, including a socially distanced version of their popular Speed Networking event.
The hotel itself offers precautionary hygiene protocols directed by the local health organizations and government authorities that include employee and guest health measures, extensive cleaning and sanitization, physical distancing and minimal contact and special changes to guest experience and service that put safety first while still providing an enjoyable experience.
The conference will continue to be networking focused and also provide unmissable educational content that will include key industry experts discussing their experiences in closing and then reopening their resorts and the challenges that are still ahead in "The Boardroom", which was the most popular session of GNEX 2020. It will also cover a variety of other topics through its X-TALKS; short 10-minute power presentations that get straight to the point. Interactive sessions and debates will also be added to the schedule.
So, to be part of the conversation that will help shape the road to recovery for the vacation industry, sign up to attend the unique and bold GNEX 2021 conference. More information available at https://gnexconference.com