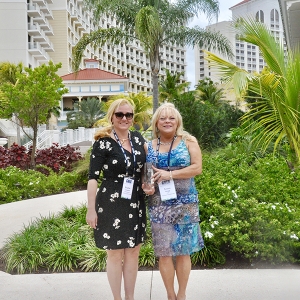 TaraNova Vacation Club, the Canadian-based travel club with a unique personal approach that provides members with complete flexibility was honored with the Best Customer Service Award at the 2019 Perspective Magazine Awards, which was held during the GNEX 2019 Conference at Baha Mar, Bahamas on February 27th.
Celebrating its 28th year in operation, TaraNova Vacation Club's mission is to provide its members with outstanding vacation experiences at its properties in Costa Rica, New Hampshire, Myrtle Beach, and Lake Tahoe and throughout the world through exchange and added value programs.
Customer service has always been at the forefront for this company, from personalized one-on- one service and implementing new technology to improve the customer experience to holding seminars to help members get the most out of new and updated features and programs.
Continuity has also been a huge contributor to the club's success story. Teresa Knapp has been Executive director since day one, and under her direction and leadership, TaraNova members enjoy a strong customer service-based Club.
In part this award is also personal recognition for Rosanne Guanabara, Club Supervisor who is celebrating 25 years with TaraNova Vacation Club; and whose professionalism and loyalty has guided the club's customer service team for many years; in addition to personally involving herself with members, connecting with them, listening, understanding changes in life patterns and ensuring members are getting the most from their valued membership.
"It is a great honor to receive the 2019 "Best Customer Service" Award on behalf of our team at TaraNova Vacation Club. It is a testament to the dedication and hard work that our team provides to our members day in and day out.  The recognition is much appreciated and certainly makes all the hard work well worth it. We also wish to thank Perspective Magazine and the judges for choosing TaraNova for this esteemed award." Said Teresa Knapp, Executive Director & Rosanne Guanabara, Club Supervisor, TaraNova Vacation Club.
The presence of TaraNova at Industry conferences ensures that TaraNova continues to strive to be abreast of updated current information within the industry and has a strong voice for the whole TaraNova membership. They continue to pursue activities and programs to heighten every members' and guests' vacation experience.
The Perspective Magazine Awards is the only global recognition program for the vacation ownership industry and considered one of the most prestigious honors in the industry due to its unique judging format where the nominees are judged by four industry experts independently of each other and combined with online votes from industry peers. The 2019 awards were presented during an awards lunch party sponsored by Holiday Systems International and INTUITION at the GNEX 2019 Conference.
For more information about TaraNova Vacation Club please visit:  https://www.taranova.com
About TaraNova Vacation Club
We are a Club made up of families who want a vacation resort that is a home away from home. Our cornerstone principle is to provide quality locations and secure property at a reasonable cost to our members. Our approach is unique: We understand that each individual's vacation times and destination preferences may change every year. Thus we created a Club in which our members have total flexibility and control. The concept is simple. Each year our members have only: To determine where they want to go To select when they want to go Request to book that time and location. It can't get any simpler than that.
About Perspective Magazine Awards
Operated by Perspective Magazine, the leading independent trade publication globally for the vacation ownership industry, the global recognition program highlights excellence throughout many sectors of the vacation ownership and hospitality industry. From resort specific awards, through legal, finance, technology, media, design, philanthropy, entrepreneurialism, innovation and more, there is an award to recognize every company that operates within the vacation ownership industry. For more details visit http://perspectiveawards.com
About GNEX Conference
With a new destination every year, a heavy focus on networking, high-quality events, and innovative format, GNEX Conferences attract senior-level executives from more than 100+ companies across the globe. The conference brings together a unique mix of attendees from traditionally separated segments of the hospitality industry, enabling you to network with companies that specialize in Hotels, Vacation Ownership, Resort Real Estate, Vacation Rentals, OTAs, Travel Agencies & Travel Clubs, plus all the vendors that supply them, including Resort Management, Sales & Marketing, Legal & Financial, Construction & Renovation, Technology, HR & Training and more… For more details on our next event at Bellagio, Las Vegas, visit https://gnexconference.com