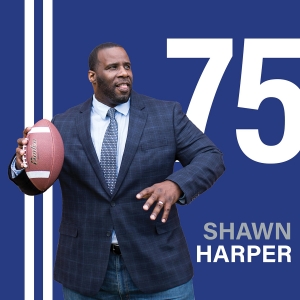 GNEX 2021 Conference, the first "in person" vacation ownership industry event of the year has confirmed that Shawn Harper, former NFL player, motivational speaker and author will speak at the 11th annual event in Miami, FL at the luxurious beachfront Eden Roc / Nobu Hotel from May 17-19, 2021.
As part of the session schedule, GNEX Conferences deliver their signature X-TALKS; high impact 10-minute solo sessions by speakers who are an Xpert or have significant Xperience or have exuded Xcellence related to their session topic.
Shawn Harper will inspire attendees to "PLAY TO WIN" by harnessing the vision, mindset, strategies, and teamwork needed to rise to their highest potential including references to  some of the methods from his book, "The Winning Edge" which outlines his personal story of overcoming many obstacles to realize his purpose and manifest his dreams.
"If life is a game, are you playing for success, or are you playing to win?", asks Shawn Harper, Former NFL Player and National Motivational Speaker.
Shawn Harper is a former NFL offensive lineman who played a total of seven seasons with the Rams, the Oilers, the Colts, and NFL Europe. Since 2004 he has owned and operated American Services and Protection, a growing multi-million-dollar security services firm headquartered in Columbus, Ohio. He uses many of the powerful lessons he learned in the NFL and strategically applies them in running his company. He is also the author of The Winning Edge: 8 Laws and Principles That Will Bring Out the Winner in You".
"We are excited to have Shawn Harper share his wisdom and experiences with our senior-level executives. We always invite guest speakers who can speak to both team leadership and personal development and Shawn is a great fit for GNEX 2021." Says Paul Mattimoe, President & CEO, Perspective Group.
The Global Networking Experience (GNEX Conference) produced by Perspective Group attracts senior-level executives and influencers in the vacation ownership and wider hospitality and leisure industries. The organizers have committed to bringing industry leaders together again for an "in person" event to discuss the impact of the pandemic on the travel industry and share ideas and strategies for recovery.
To do this safely, the organizers have secured extended indoor and outdoor space and adapted the schedule and session formats to ensure a safe and comfortable environment, including temperature checks, facemasks and personal hand sanitizers for all attendees, in addition to the hotel's own safety protocols.
GNEX 2021 puts the acquisition of new business at the top of its priorities. Attendees are rewarded with unique session formats and interactive networking events that are created especially for the GNEX Conference, and unrivaled access to top level executives that span all areas of the hotel and resort industry including: Resort Developers, Hoteliers, Resort Management Companies, Financiers, Investors, Legal Firms, Technology Providers, Exchange Companies, Rental & Resale Companies, Construction & Renovation Companies, Trade Associations, Online Travel Agencies, Travel Clubs, Vacation Rental Platforms, Sales & Marketing Companies, Consultancy Firms and much more.
For more information on GNEX 2021 visit https://gnexconference.com
Sponsors include: arrivia, Equiant, INTUITION Brand Marketing, Light, SPI Software, Vacations 4 You, BeHome247, Vacation SafeGuard, VantageRX Testing Solutions, Jim Madrid, RCI, Asociación de Complejos Vacacionales y Turísticos, A.C. (ACOTUR), Cooperative Association of Resort Exchangers (C.A.R.E.), Canadian Vacation Ownership Association (CVOA), Send Me On Vacation.
For information on Sponsorship Opportunities visit https://gnexconference.com/sponsorship
About GNEX Conference
With a new destination every year, a heavy focus on networking, high-quality events, and innovative format, GNEX Conferences attract senior-level executives from more than 100+ companies across the globe. The conference brings together a unique mix of attendees from traditionally separated segments of the hospitality industry, enabling you to network with companies that specialize in Hotels, Vacation Ownership, Resort Real Estate, Vacation Rentals, OTAs, Travel Agencies & Travel Clubs, plus all the vendors that supply them, including Resort Management, Sales & Marketing, Legal & Financial, Construction & Renovation, Technology, HR & Training and more… For more details on our next event in Miami at the Eden Roc / Nobu Hotel on Miami Beach visit https://gnexconference.com