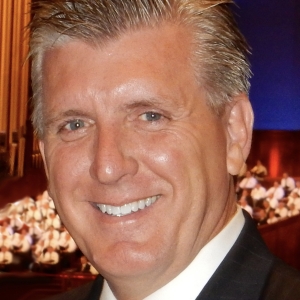 Richard Orchard, Founder, VantageRx Testing Solutions, a distributor of COVID-19 rapid fingerstick Antibody, nasal swab Antigen and saliva PCR Tests and the unique Vollara Air & Surface Pro air purification device will speak at the upcoming GNEX 2021 Conference. The "in person" vacation ownership industry event will be held in Miami, FL at the Eden Roc / Nobu Hotel from May 17-19, 2021.
Mr. Orchard will address senior-level executives of approximately 100 companies operating within the vacation ownership and travel industry. The pandemic has disrupted the travel industry like never before, and even as signs of recovery are beginning to show, the return to pre-COVID occupancy levels for hotels and resorts will be reliant upon many new factors. The high-impact 10-minute X-TALK will discuss how safety measures implemented by resorts to make vacationers feel comfortable will play a major role in the customer experience moving forwards and will show how resort operators can turn this into an effective competitive advantage by harnessing the unique benefits of air purification and COVID testing at the resorts and sales centers.
VantageRX is also participating as a Bronze Sponsorship and will be utilizing its air purification system to help protect attendees throughout the general conference rooms. The patented ActivePure Technology was developed to protect the astronauts on the NASA International Space Station and is one of only 75 technologies that have been inducted into the Space Technology Hall of Fame. Each unit fills up to a 3,000 sq. ft. area with safe oxidizing molecules that seek and destroy harmful pathogens and contaminants (including the SARS-CoV-2 virus) that are in the air—and on surfaces.
"We are pleased to join GNEX this year during the pandemic to address how to help prevent members and staff from contracting the SARS-CoV-2 virus that has affected so many around the world" says Richard Orchard, Founder, VantageRx Testing Solutions.
The company will also be featured as a Session Sponsor during the event and will have an exhibit table in the Networking Lounge where attendees have the option to take an FDA approved COVID-19 Rapid Antibody Fingerstick Test to see if they have the IgM and IgG Antibodies in just 10 minutes and find out more information on how to purchase these tests for use at hotels, resorts and workplaces.
The Global Networking Experience (GNEX Conference) produced by Perspective Group attracts senior-level executives and influencers in the vacation ownership and wider hospitality and leisure industries.
The 11th Annual event has been reimagined with extended indoor and outdoor event space, and with an abundance of consideration to safety protocols, in order to bring the industry back together once again with a wealth of networking opportunities and educational sessions.
"VantageRx's air purification system will add an extra layer to our safety protocols for this event and provide impressive insights into a "new normal" where hotels and resorts can achieve a competitive advantage by providing enhanced onsite safety features and testing to attract guests back on vacation. It is a pleasure to welcome them as a new sponsor for 2021." Says Paul Mattimoe, President & CEO, Perspective Group.
GNEX 2021 puts the acquisition of new business at the top of its priorities. Attendees are rewarded with unique session formats and interactive networking events that are created especially for the GNEX Conference, and unrivaled access to top level executives that span all areas of the hotel and resort industry including: Resort Developers, Hoteliers, Resort Management Companies, Financiers, Investors, Legal Firms, Technology Providers, Exchange Companies, Rental & Resale Companies, Construction & Renovation Companies, Trade Associations, Online Travel Agencies, Travel Clubs, Vacation Rental Platforms, Sales & Marketing Companies, Consultancy Firms and much more.
For more information on GNEX 2021 visit https://gnexconference.com
Sponsors include: arrivia, Equiant, INTUITION Brand Marketing, Light, SPI Software, Vacations 4 You, Vacation SafeGuard, VantageRx Testing Solutions, Jim Madrid, RCI, Asociación de Complejos Vacacionales y Turísticos, A.C. (ACOTUR), Asociación Mexicana de Desarrolladores Turísticos (AMDETUR), Cooperative Association of Resort Exchangers (C.A.R.E.), Canadian Vacation Ownership Association (CVOA), Send Me On Vacation (SMOV).
For information on Sponsorship Opportunities visit https://gnexconference.com/sponsorship
About VantageRx Testing Solutions
VantageRx provides COVID-19 rapid Antibody fingerstick testing for both IgG and IgM antibodies in under 10 minutes, as well as the new rapid nasal swab Antigen tests and a saliva PCR molecular test worldwide to detect the virus.  VantageRx is also an authorized distributor of the Vollara Air & Surface Pro with ActivePure Technology which fills up to a 3,000 sq. ft. area with safe oxidizing molecules that seek and destroy harmful pathogens and contaminants (including the SARS-CoV-2 virus) that are in the air—and on surfaces to help prevent from contracting COVID-19. Click Here
About GNEX Conference
With a new destination every year, a heavy focus on networking, high-quality events, and innovative format, GNEX Conferences attract senior-level executives from more than 100+ companies across the globe. The conference brings together a unique mix of attendees from traditionally separated segments of the hospitality industry, enabling you to network with companies that specialize in Hotels, Vacation Ownership, Resort Real Estate, Vacation Rentals, OTAs, Travel Agencies & Travel Clubs, plus all the vendors that supply them, including Resort Management, Sales & Marketing, Legal & Financial, Construction & Renovation, Technology, HR & Training and more… For more details on our next event in Miami at the Eden Roc / Nobu Hotel on Miami Beach visit https://gnexconference.com