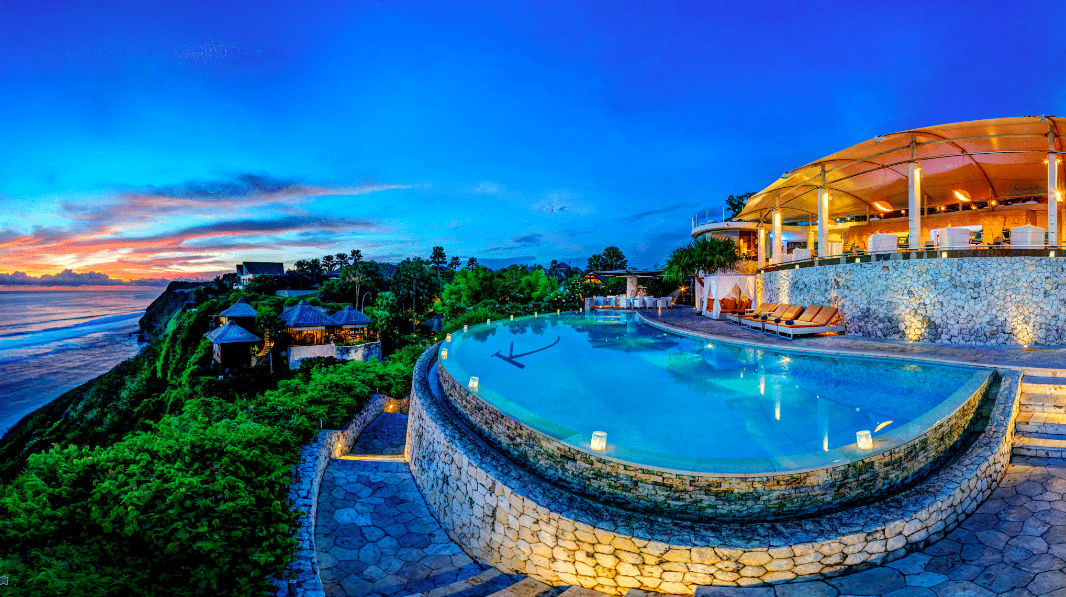 Overlooking the azure waters of the Indian Ocean from its spectacular 180° degree vantage point on Bali's southernmost coast, Karma Kandara's setting atop dramatic limestone cliffs is befitting of its position as one of southeast Asia's leading boutique luxury resorts. Karma Group's flagship Bali resort is comprised of a mix of ocean view villa residences positioned along scenic paths strewn with fragrant frangipani trees and colourful bougainvillea while its award-winning amenities including destination restaurant di Mare, rooftop bar Temple Lounge, cliff-edge Karma Spa and private beach club complete a package that stands out as one of the most spectacular boutique resorts in southeast Asia.
The 1-5 bedroom residences of Karma Group's flagship Bali resort offers guests the intimate privacy of a private villa, but with the services of a world class luxury hotel. The layout of each residence is based on a contemporary reimagining of the traditional Balinese compound with two or three pavilions with roofs of alang-alang grass or iron wood shingles that border a central lap pool, wooden deck area and picturesque garden courtyard dotted with tropical flora. All bedrooms face seaward and feature en-suite semi-outdoor bathrooms with grandiose stand-alone tubs and rain showers while the high-ceilinged living areas have an expansive and airy feel accentuated by the large sliding glass doors.
Interior designer Tina Kirschner has ingeniously combined a pared back contemporary style with organic colour palettes and just the right mix of traditional elements that evoke cultural diversity of the Indonesian archipelago. With nearly two decades of experience at the elite level, Kirschner intuitively understands how to harmonise discrete elements to create stunning interior spaces where guests instinctively wish to linger. Her décor evokes an uncluttered Mediterranean ambience, with richly upholstered furnishings in earthy shades accented with artworks from around the Indonesia archipelago and with vanilla cream marble tiles that keep the interiors cool. Every residence boasts top of the line amenities including the latest audiovisual systems and German appliances in the spacious fully equipped kitchens. Perched on a precipice 80 metres above the ocean is The Grand Cliff Front Villa with its sublime infinity pool seemingly merging into the horizon.
Karma Kandara indulges guests with services and amenities that introduce a hedonistic fantasy world inspired by the Mediterranean lifestyle as perfectly represented by signature restaurant, di Mare. Designed in the manner of a floating verandah, arced steel tubing and a sail-like roof provide the billowy canopy for the semi-circular dining area where it sits 85 meters above the Indian Ocean surf. di Mare serves zestful Mediterranean meets Pacific Rim cuisine with lots of local inspiration, created by celebrated chef Joseph Antinoshek – a winner of the vaunted James Beard Hotel Chef's of America award. His dishes are complemented by an exhaustive list of both old and new world wines from all the best regions served by the bottle, glass or via an Enomatic wine system that delivers the perfect tipple at the optimum temperature. Directly above di Mare is the Moroccan-styled Temple Lounge. Featuring long banquettes with ample cushioned seating, Shisa pipes and giant stained glass lanterns the Kasbah-like setting is a perfect setting in which to enjoy a pre-dinner aperitif or after dinner cocktail under the stars.
Tucked behind a rock shoulder overlooking the ocean vista is the holistic Karma Spa offering a broad selection of spiritual, detox, beauty, and health treatments and therapies in a sublime cliff top setting. Guests can choose from a select menu of treatments, delivered in its laid back luxury spa shacks by highly experienced therapists drawing on Indian Ayurvedic and Balinese healing traditions as well as the latest wellbeing trends. From chakra healing to cranio-sacral reiki; infrared sauna to wild kelp rituals; Himalayan salt baths to ultimate oxygen facials, the options at Karma spa are as unique and varied as the treatments types.
A short ride via inclinator to the base of the white cliffs transports guests to Karma Beach Club, the resort's magical cove nestled by Uluwatu reef, offering guests the perfect venue to enjoy the pristine waters of the resort's private beach, cocktail in hand. Recently expanded and enhanced by renowned designer, Tina Kirschner, the newly imagined Karma Beach Club is now separated into two distinct offerings: Karma Beach Dining and Karma Beach Bar. These renovations feature additional decking and seating, beach facing communal dining options for larger groups, three more beach showers, and new thatched roof. While in the kitchen and dining area, a new pizza oven and sushi bar have been added and joined by new art deco furniture and lighting, swing chairs, and a revamped bathroom. A section of the former restaurant has been transformed into the new bar and lounge where world class DJs and musicians perform regularly. Guests can swim and snorkel off the beach, take out paddleboards and kayaks before indulging in sunset cocktails and light Mediterranean meals and there's also a dedicated Ocean Spa & Yoga pavilion for those who like their treatments right by the seashore.
To top it all off, each month exciting new activities and events are added to Karma's eclectic roster. From fascinating cultural encounters to wine pairing dinners to adventure sports to legendary beach parties and regular sunset gatherings featuring top international DJs from the UK to Ibiza. Karma Kandara continues to up the ante in delivering a destination that is built around a dedication to entertainment and to the kinds of moment to moment experiences that will live long in the memory.