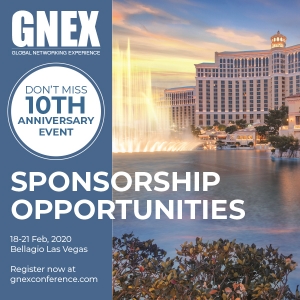 The Global Networking Experience, more commonly known as GNEX Conference which attracts senior-level vacation industry executives representing more than 100+ companies from around the world announces initial sponsors for its special 10th Anniversary event at the luxurious Bellagio Hotel & Casino, Las Vegas, 18-21 February 2020.
After recently announcing that just 10 weeks after the outstanding 2019 event in The Bahamas at the $4.2 billion Baha Mar Resort, there were more companies registered to attend GNEX 2020 in Las Vegas than any previous year in the same period, Perspective Group; the organizers of the event have revealed that there are also more sponsors and supporters confirmed already than any previous year in the same period.
The record-breaking phase continues as organizers aim to smash previous records for attendance, number of attending companies and most sponsors as part of the celebration of 10 years of GNEX Conferences.
"Our events would not be the same without the support of our sponsors. We are very fortunate to have several long-time sponsors that enable us to have the confidence to push the limits each and every year to produce bigger, better, more innovative and unique events and experiences for those that attend." Says Paul Mattimoe, President & CEO, Perspective Group. "There is already a strong indication that 2020 will surpass even our Miami event in 2018 as the largest GNEX Conference so far, so we urge those considering sponsorships to get involved now to grab the best options."
GNEX Conference is getting set to celebrate a decade of challenging the norm. Known for re-inventing the traditional vacation ownership conference format, there is no other event that has introduced more new and innovative session types or focused so heavily on networking to ensure attendees generate new business.
In celebrating 10 years, event organizers, Perspective Group are continuing the tradition of outstanding venues by selecting the Bellagio in the heart of the Las Vegas Strip – a hotel that at the time of its opening, was the most expensive hotel ever built. The Las Vegas event is slated to exceed all previous years for unique content, networking opportunities and attendance.
Confirmed sponsors so far include:
Signature Sponsors – Holiday Systems International, INTUITION Brand Marketing.
Gold Sponsors – Walltopia USA
Silver Sponsors – Light, Resort Management Services, Wyndham Destinations
Networking Sponsors – Access Development
Supporting Sponsors – Jim Madrid, My Travel Club
Association & Media Partners – AMDETUR, AVO, C.A.R.E., CVOA, ARDA Developments.
With sponsorships from $4,000 to $25,000, each including at least two delegate tickets, there really is something for every company that's serious about being noticed at the most memorable GNEX Conference so far.
For information on Sponsorship Opportunities visit https://gnexconference.com/sponsorship
For more details about the event and to register to attend visit https://gnexconference.com
About GNEX Conference
With a new destination every year, a heavy focus on networking, high-quality events, and innovative format, GNEX Conferences attract senior-level executives from more than 100+ companies across the globe. The conference brings together a unique mix of attendees from traditionally separated segments of the hospitality industry, enabling you to network with companies that specialize in Hotels, Vacation Ownership, Resort Real Estate, Vacation Rentals, OTAs, Travel Agencies & Travel Clubs, plus all the vendors that supply them, including Resort Management, Sales & Marketing, Legal & Financial, Construction & Renovation, Technology, HR & Training and more… For more details on our next event at Bellagio, Las Vegas, visit https://gnexconference.com