GNEX Conference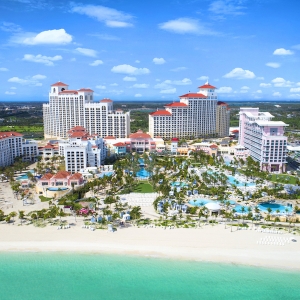 , also known as Global Networking Experience; the most innovative event on the vacation ownership calendar has announced the addition of a special Sponsor-Only event at its conference which will be held at Baha Mar, Nassau, The Bahamas from February 24-27, 2019.
Since 2011, GNEX Conferences have attracted high-level executives and influencers in the hospitality, leisure, and vacation ownership industries from around the globe. Each event is packed full of unique educational and networking sessions and boasts an array of high-end social events.
This year, an additional cocktail party will be added to the agenda as a thank you to all sponsors of the event. This first night event will give sponsors exclusive early access to network with attending resort developers and other VIP guests ahead of the main evening party.
In addition to all of the exposure Sponsors already receive, this recognition party sets them apart from other attendees, and highlights them as strong companies to do business within the eyes of their primary target market.
"We always want to find more ways to thank and support our sponsors in their efforts to find new business clients. This recognition party is yet another way we are doing that. This will be a very exclusive cocktail party in one of the many cool venues at Baha Mar, and due to the limited sponsorships available will provide an intimate environment for our sponsors to network with key decision makers ahead of the main conference days." Says Paul Mattimoe, President & CEO, Perspective Group – who produce the GNEX Conferences.
Following a record-breaking and outstanding 2018 event in Miami, onboard the world's first mega-yacht event venue, the 2019 event is slated to be the most extravagant to date.
GNEX is returning to The Bahamas where it all began 9 years ago, but this time to the brand new $4.2 billion Baha Mar Resort on Nassau, set in 1,000 acres of luxurious beachfront resort which includes Grand Hyatt, SLS and Rosewood hotels, plus the largest casino in the Caribbean, 100,000 sq. ft. Convention Center, 30,000 sq. ft. Spa, stunning restaurants, luxury shopping and the Royal Blue Golf Course, designed by Jack Nicklaus.
For more information and to register for the event, visiting https://gnexconference.com/register
To request a sponsorship brochure, visit https://gnexconference.com/sponsorship
About GNEX Conference
With a new destination every year, a heavy focus on networking, high-quality events, and innovative format, GNEX Conferences attract senior-level executives from more than 130+ companies across the globe. The conference brings together a unique mix of attendees from traditionally separated segments of the hospitality industry, enabling you to network with companies that specialize in Hotels, Vacation Ownership, Resort Real Estate, Vacation Rentals, OTAs, Travel Agencies & Travel Clubs, plus all the vendors that supply them, including Resort Management, Sales & Marketing, Legal & Financial, Construction & Renovation, Technology, HR & Training and more… For more details on our next event at Baha Mar Bahamas, visit https://gnexconference.com