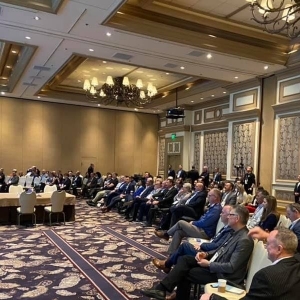 The Global Networking Experience (GNEX Conference), which is an innovative vacation ownership industry event for senior-level executives has, out of an abundance of caution rescheduled its upcoming conference from February to 17-19 May in Miami due to COVID-19.
GNEX 2021, which already has more than 50% of expected registrations for a "normal" year, made the important decision to reschedule after tracking continued rises in COVID-19 cases, slower than expected roll out of vaccinations, continued international travel restrictions and domestic quarantine restrictions in some states that may have affected registered delegates from attending.
"We can't wait to bring the industry back together again, but to ensure the most comfortable and productive networking environment, and to enable everyone that wants to attend to be able to, we just need to wait a little while longer than expected before getting down to business in Miami." Says Paul Mattimoe, President & CEO, Perspective Group; organizers of the event.
The event will be held at the luxurious beachfront Eden Roc / Nobu Hotel in Miami Beach, FL, 17-19 May and will follow the same format as previously planned. There will be comforting safety protocols operated by the hotel, plus additional temperature checks at the event space, with masks and personal hand sanitizers provided. Extended indoor and outdoor event space has been secured to create spacious general sessions and networking areas and assist with social distancing where possible.
GNEX 2021 puts the acquisition of new business at the top of its priorities. Attendees are rewarded with unique session formats and interactive networking events that are created especially for the GNEX Conference, and unrivaled access to top level executives that span all areas of the hotel and resort industry including: Resort Developers, Hoteliers, Resort Management Companies, Financiers, Investors, Legal Firms, Technology Providers, Exchange Companies, Rental & Resale Companies, Construction & Renovation Companies, Trade Associations, Online Travel Agencies, Travel Clubs, Vacation Rental Platforms, Sales & Marketing Companies, Consultancy Firms and much more.
For more information on GNEX 2021 visit https://gnexconference.com
Sponsors include: arrivia, Equiant, INTUITION Brand Marketing, Light, SPI Software, Vacation SafeGuard, Jim Madrid, RCI, Asociación de Complejos Vacacionales y Turísticos, A.C. (ACOTUR), Cooperative Association of Resort Exchangers (C.A.R.E.), Canadian Vacation Ownership Association (CVOA).
For information on Sponsorship Opportunities visit https://gnexconference.com/sponsorship
About GNEX Conference
With a new destination every year, a heavy focus on networking, high-quality events, and innovative format, GNEX Conferences attract senior-level executives from more than 100+ companies across the globe. The conference brings together a unique mix of attendees from traditionally separated segments of the hospitality industry, enabling you to network with companies that specialize in Hotels, Vacation Ownership, Resort Real Estate, Vacation Rentals, OTAs, Travel Agencies & Travel Clubs, plus all the vendors that supply them, including Resort Management, Sales & Marketing, Legal & Financial, Construction & Renovation, Technology, HR & Training and more… For more details on our next event in Miami at the Eden Roc / Nobu Hotel on Miami Beach visit https://gnexconference.com