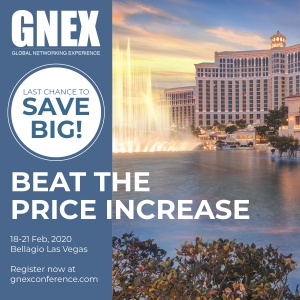 The Global Networking Experience, more commonly known as GNEX Conference has confirmed that it has exceeded its original target of attracting senior-level vacation industry executives from more than 100 companies to its 10th Anniversary event at the luxurious Bellagio Hotel & Casino, Las Vegas, 18-21 February 2020.
Since 2011, GNEX Conference, which is owned and operated by Perspective Group has offered a unique, ever-evolving conference format which focuses heavily on networking – bringing decision-makers and influencers together to create new business opportunities and learn from each other.
The 10th anniversary event is packed with more than 20 expert speakers – from industry professionals to an Olympian, a fighter pilot and bestselling authors. It will also include the popular Speed Networking and Interactive Workshops, plus two new sessions: The Boardroom, which puts a collection of C-Suite executives together to discuss the industry's future, and Expo LIVE! which brings the Networking Lounge to the stage where companies can promote their products and services in quick 5-minute presentations.
GNEX Conference social events are always incredible and this year attendees (subject to availability at time of registering) will be treated to a Red-Carpet Networking Party that includes a helicopter tour above the Las Vegas Strip, and a VIP Pre-Show Cocktail Party before seeing the #1 Las Vegas Show – Absinthe! There is also an awards party, an optional All-Cash Poker Tournament and optional Golf Tournament on the exclusive Shadow Creek Golf Course, which is usually reserved only for celebrities and high rollers.
"To have our expected 100 companies already registered with 4 weeks still to go, combined with our incredible line-up of speakers and events is a clear sign that our 10th Anniversary event will certainly be a memorable one." Says Paul Mattimoe, President & CEO, Perspective Group.
GNEX 2020 puts the acquisition of new business at the top of its priorities.Attendees are rewarded with unique session formats and interactive networking events that are created especially for the GNEX Conference, and unrivaled access to top level executives that span all areas of the hotel and resort industry including: Resort Developers, Hoteliers, Resort Management Companies, Financiers, Investors, Legal Firms, Technology Providers, Exchange Companies, Rental & Resale Companies, Construction & Renovation Companies, Trade Associations, Online Travel Agencies, Travel Clubs, Vacation Rental Platforms, Sales & Marketing Companies, Consultancy Firms and much more.
To register for the event, visit https://gnexconference.com/register
For more details on GNEX 2020 visit https://gnexconference.com
Confirmed sponsors include: Holiday Systems International, INTUITION Brand Marketing, Walltopia USA, Light, Resort Management Services, Wyndham Destinations, Access Development, Fflair Leisure Ltd , RSI Vacations, SPI Software, CPNA (Contract Partners of North America), Jim Madrid, My Travel Club, The Registry Collection, Asociación Mexicana de Desarrolladores Turísticos (AMDETUR), Association of Vacation Owners (AVO), Cooperative Association of Resort Exchangers (C.A.R.E.), Canadian Vacation Ownership Association (CVOA), ARDA Developments Magazine.
For information on Sponsorship Opportunities visit https://gnexconference.com/sponsorship
About GNEX Conference
With a new destination every year, a heavy focus on networking, high-quality events, and innovative format, GNEX Conferences attract senior-level executives from more than 130+ companies across the globe. The conference brings together a unique mix of attendees from traditionally separated segments of the hospitality industry, enabling you to network with companies that specialize in Hotels, Vacation Ownership, Resort Real Estate, Vacation Rentals, OTAs, Travel Agencies & Travel Clubs, plus all the vendors that supply them, including Resort Management, Sales & Marketing, Legal & Financial, Construction & Renovation, Technology, HR & Training and more… For more details on our next event in Las Vegas at the Bellagio Hotel and Casino visit https://gnexconference.com