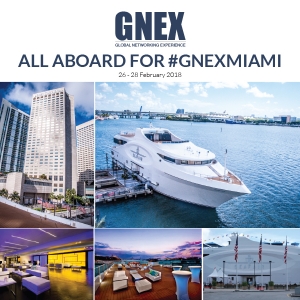 Orlando, Florida, 9 October, 2017 – (INTUITION) – Innovative Vacation Club, Hotel & Resort Conference reveals second part of the "new format" for 2018 designed specifically to enhance business-making opportunities for attendees.
The Global Networking Experience, commonly known as GNEX Conference is synonymous with attracting senior-level executives to different stunning locations each year, creating unique networking environments, pushing the envelope with interactive general sessions and delivering spectacular social events. GNEX 2018 will be held 26 – 28 February 2018, Miami, FL, on the world's first mega-yacht venue, the $40 million, 228ft SeaFair Grand Luxe that recently completed a further $10 million renovation to provide a truly unique event venue that boasts more than 22,000 square feet of meeting space.
GNEX Conferences focus heavily on networking and the 2018 event will introduce another new and innovative session entitled "The 60-Second Pitch", where a group of pre-determined decision-making resort development executives will listen to quick-fire 60-second product and service pitches from attending vendors.
The vendors have just a minute to grab the attention of their highest value prospects at the event (and the rest of the audience), and the resort developers get to quickly and easily learn about the latest and greatest products and services available to them in a condensed time-frame, leaving them to arrange one-on-one meetings with just those that interest them most, thereby making best use of their time at the event.
Additionally, participating vendors also automatically receive business cards of all participating decision-makers, of whom they may not have had the change to meet all during the event; and provides them with the ability to follow up after the event ends.
"Our conference focuses on delivering the most effective business-making environment for our attendees. The success of this focus has been seen in year on year growth for the past 7 consecutive years." Says Paul Mattimoe, President & CEO, Perspective Group; hosts of GNEX Conference.
In addition to this new session, the event offers a Speed Networking session, generous time is given to networking breaks and there are three social events included, where conversations can continue in a more casual environment.
GNEX 2018 also offers high-value educational sessions. Another new addition debuting in Miami is "X-Talks", where the "X" stands for Xpert, Xperience or Xcellence. Largely replacing the previous format of hour-long Q&A Panel sessions, the "X-Talks" will comprise of a solo speaker for a limited time of just 10 minutes. Each speaker will qualify as an Xpert, or have significant Xperience or has exuded Xcellence related to their session topic.
These information packed, bite-sized sessions will deliver valuable opinions, data and insights for attendees on many varied topics, while creating extended time and flexibility for networking and planned meetings.
Will Blackmon, NFL Player will also make an appearance as a guest speaker, and will address the mostly C-Level audience about "The Art of Resiliency – Setbacks, Obstacles & Tragedy".
Will Blackmon, currently a free agent, has already played 10 seasons in the NFL, formerly for the Washington Redskins, Seattle Seahawks, Jacksonville Jaguars and Arizona Rattlers. Earlier in his career, he played college football for the Boston College Eagles, and was drafted in the fourth round of the 2006 NFL Draft by the Green Bay Packers. He also won a Super Bowl ring when playing for the New York Giants after defeating the New England Patriots in Super Bowl XLVI.
Signature Sponsors for the event are: DAE, Holiday Systems International and INTUITION Brand Marketing. Additional sponsors include: Send Me On Vacation, VacationCondos.com, Resort Management Services, Resort Travel & Xchange, Wyndham Vacation Resorts Asia Pacific, Cooperative Association of Resort Exchangers, National Timeshare Owners Association.
For more information and to register for the event, visiting https://gnexconference.com/register
To request a sponsorship brochure, visit https://gnexconference.com/sponsorship
About GNEX Conference
With a new destination every year, a heavy focus on networking, high-quality events, and innovative format, GNEX Conferences attract senior-level executives from more than 130+ companies across the globe. The conference brings together a unique mix of attendees from traditionally separated segments of the hospitality industry, enabling you to network with companies that specialize in Hotels, Vacation Ownership, Resort Real Estate, Vacation Rentals, OTAs, Travel Agencies & Travel Clubs, plus all the vendors that supply them, including Resort Management, Sales & Marketing, Legal & Financial, Construction & Renovation, Technology, HR & Training and more… For more details on our next event onboard the world's first mega-yacht event venue in Miami, visit https://gnexconference.com