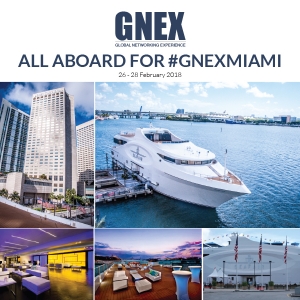 Orlando, Florida, 6 September – (INTUITION) – Renowned Vacation Ownership, Hotel & Resort Conference announces first part of a "new format" shake up to its annual event by introducing "X-Talks".
The Global Networking Experience, commonly known as GNEX Conference is synonymous with attracting senior-level executives to different stunning locations each year, creating unique business-making environments, pushing the envelope with interactive general sessions and delivering spectacular social events.
Aspects of the innovative GNEX Conferences are often been emulated at other events, and so for its 8th annual event organizers say it is time to once again distinguish itself with a totally new, unique format.
In 2018, as part of this new format, the event will debut "X-Talks", where the "X" stands for Xpert, Xperience or Xcellence.
Largely replacing the previous format of hour-long Q&A Panel sessions, the "X-Talks" will comprise of a solo speaker for a limited time of just 10 minutes. Each speaker will qualify as an Xpert, or have significant Xperience or has exuded Xcellence related to their session topic.
These information packed, bite-sized sessions will deliver valuable opinions, data and insights for attendees on many varied topics, while creating extended time and flexibility for networking and planned meetings.
"The primary focus at GNEX is networking, and often attendees need to choose between general sessions and scheduled meetings. As part of our new format, we are creating a more flexible schedule for meetings, but at the same time offering highly valuable "X-Talk" content in 10 minute segments, making it much easier to attend just the ones that are of most interest." Says Paul Mattimoe, President & CEO, Perspective Group.
The "X-Talks" will be scattered throughout the two-day event, typically two or four at a time, covering many topics related to the core industry plus wider business management, sales and marketing, motivation, technology and more aimed specifically at senior-level company executives.
The conference will also include, a Keynote Speaker, Guest Speakers. planned Networking Sessions, Cocktail Hours, two Social Events and more…
GNEX 2018 will be held on the world's first mega-yacht venue, the $40 million, 228ft SeaFair Grand Luxe that recently completed a further $10 million renovation to provide a truly unique event venue that boasts more than 22,000 square feet of meeting space.
Signature Sponsors for the event are: DAE, Holiday Systems International and INTUITION Brand Marketing. Additional sponsors include: Send Me On Vacation, VacationCondos.com, Resort Management Services, Resort Travel & Xchange, Wyndham Vacation Resorts Asia Pacific, Cooperative Association of Resort Exchangers, National Timeshare Owners Association.
For more information and to register for the event, visiting https://gnexconference.com/register
To request a sponsorship brochure, visit https://gnexconference.com/sponsorship
About GNEX Conference
With a new destination every year, a heavy focus on networking, high-quality events, and innovative format, GNEX Conferences attract senior-level executives from more than 130+ companies across the globe. The conference brings together a unique mix of attendees from traditionally separated segments of the hospitality industry, enabling you to network with companies that specialize in Hotels, Vacation Ownership, Resort Real Estate, Vacation Rentals, OTAs, Travel Agencies & Travel Clubs, plus all the vendors that supply them, including Resort Management, Sales & Marketing, Legal & Financial, Construction & Renovation, Technology, HR & Training and more… For more details on our next event onboard the world's first mega-yacht event venue in Miami, visit https://gnexconference.com