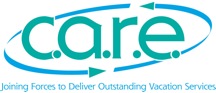 C.A.R.E., the Cooperative Association of Resort Exchangers, is a not-for-profit trade association that was established in 1985. The association has hosted semi-annual conferences up through the fall of 2017 and in 2018 is preparing for its first annual conference, what will be their 66th conference in 33 years.
C.A.R.E. is, and always has been, run almost solely by volunteer members of the association. In the last three (3 Years), with the lead of its President Linda Mayhugh, C.A.R.E. has worked diligently to strategically align itself with all the industry trade associations.
It has successfully implemented strategic partnerships with not just one (1) but five (5) – AMDETUR, ARDA, ARDA WIN Advantage, CVOA and NTOA. The work that C.A.R.E. has done to formalize and implement these partnerships has led to each association, for the most part, working more closely with each other respectively as well, not just with C.A.R.E.
What each of these strategic partnerships bring to the industry is allowing each association to be more present throughout industry events, equally promoting the respective business of each association, and providing a platform where territorial borders can be erased to achieve the common goal of ethically expanding our vast industry globally. The monetary value that each of these partners gain from aligning is immeasurable. While the bottom lines of each association are relatively (and positively) effected, the true value is appreciating and capitalizing on the respect created among association executives to enumerate the results. We feel the industry as a whole will benefit by the formalization of these partnerships. We believe C.A.R.E. should be considered for the best strategic partnership in the industry by way of their recent accomplishments as described in facilitating beneficial strategic partnerships with all association partnerships.