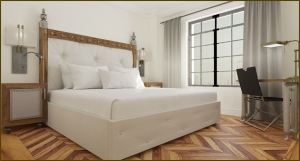 At Westgate New York City, our New York rooms are designed with comfort and convenience in mind. Features include Serenity Beds and triple pane windows to reduce noise from the busy NYC streets making this iconic retreat the premier choice for hotels in Midtown Manhattan. Choose the bed that's right for you or upgrade to one of our East Manhattan hotel rooms with a balcony.
Recognized by Historic Hotels of America, this historic landmark opened in 1931 and was formerly known as the Hotel Tudor, Hilton Manhattan East and the Hilton New York Grand Central. It features gothic-revival architecture and pre-war charm blended with modern luxuries. Westgate will continue to operate the resort as a hotel while it undergoes an extensive renovation. The company will also explore opportunities in the future to add timeshare villas. Starting June 6, Westgate Timeshare Owners will receive exclusive discounts toward guest room stays at the hotel.
Onsite amenities include a business center, 24-hour fitness center, casual eatery and valet parking, as well as 3,500 square feet of flexible meeting space. Westgate New York City is located on 42nd Street with convenient access to Grand Central Station, less than a block from the United Nations and within a few blocks of popular Manhattan landmarks such as the Empire State Building, Chrysler Building, Times Square, Bryant Park, Museum of Modern Art, Rockefeller Center and New York Public Library, making it ideally situated among Midtown Manhattan hotels in the Murray Hill District and surrounding area.
Westgate New York City is the latest hotel to join the ever-growing list of new properties acquired by Westgate Resorts in premier vacation destinations throughout the United States. On July 1, 2018, Westgate is opening Westgate Cocoa Beach Resort, an all two-bedroom Polynesian-themed beach resort located one mile from the world-famous WestgateCocoa Beach Pier in Cocoa Beach, Fla.
An established leader in the timeshare industry for more than 30 years, Westgate Resorts has more recently put additional emphasis on its hotel offerings. The company provides hotel accommodations in destinations across the nation including Las Vegas; Orlando, Fla.; Park City, Utah and more. The company now caters to travelers beyond the leisure market with options for business travelers as well as meetings and groups.
For more information about the latest developments concerning Westgate New York City, visit www.westgatenyc.com or www.westgateresorts.com.