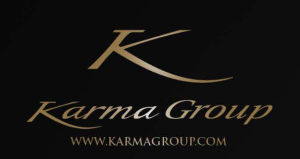 Karma Kandara Phase 6 represents the final release of iconic villas and sleek apartments at Karma Group's flagship resort atop the spectacular limestone cliffs of Bali's southernmost coast. And these new residences set the bar when it comes to high design in the tropics.
The work of legendary Australian architectural studio Woods Bagot, both villas and apartments are a study in how to blend vernacular architecture with a contemporary aesthetic that fits both the environment and the climate. As such, the interior concept is best described as modern tropical. Structurally, the design makes the most of passive cooling via an ingenious ventilation system that allow air to circulate freely throughout each connected space whilst reducing humidity and heat – a crucial service in Bali.
The interior spaces also blur the boundary between inside and outside, with extensive use of double glazing glass and native materials such as rich teak wood, and Merbau for decking and cool Yogyakarta stone. Furnishings also make the most of natural materials sourced in Central Java factories, including handwoven rattan furniture and teak wood fittings. In keeping with the location, the colour palette is a mix of muted greens and blues that reflect the colours of the lagoon at Karma Beach Bali – Karma Kandara's private beach club that gives onto the sparkling waters of the Indian Ocean.
Interior designer Tina Kirschner has ingeniously combined a pared back contemporary style with organic colour palettes and just the right mix of traditional elements that evoke cultural diversity of the Indonesian archipelago. With nearly two decades of experience at the elite level, Kirschner intuitively understands how to harmonise discrete elements to create stunning interior spaces where guests instinctively wish to linger. Her décor evokes an uncluttered Mediterranean ambience, with richly upholstered furnishings in earthy shades accented with artworks from around the Indonesia archipelago
Comfort, artistry and quality are paramount across the villas and apartments, with comfy low-slung couches and custom fittings mixed with traditional accents garnered from around the Indonesian archipelago. Bedrooms feature king and queen size beds made up with luxuriant high thread count sheets and duvets, kitchens are equipped with high calibre German appliances and the latest audiovisual systems can be found in the open plan living area and bedrooms. Broadband WiFi Internet is of course available throughout. spa- like bathrooms provide a sanctuary of exquisite vanity units, soaking tubs and powerful showers. All rooms are equipped with the highest quality climate control provisions.
But perhaps the biggest highlight here is the location itself – and the substantial three and four bedroom villas make the most of the tropical environment and jaw-dropping views with floor to ceiling glass and an open-plan kitchen dining space that gives directly onto the private pool. Guests are never far from the sight & sound of the surf and the scent of frangipani on the tropical breeze.
Whilst Karma Kandara Phase 6 benefits from all the award-winning amenities of the resort as a whole, it also features its own destination restaurant and private pool deck, complete with swim up bar and tapas counter. In addition there is a gym and wellness facility, with an interior space fitted with the latest machines and free weights beneath a yoga pavilion styled after the classic Balinese bale. It's a clever way to maximise space.
Then of course there are the stunning facilities for which Karma Kandara is rightly famous – accessed by cliff inclinator, Karma Beach Bali is centred around an expansive bamboo pavilion with day beds strewn across the ivory white sand. Already one of the most talked about venues in Bali, it is now undergoing a spectacular refit, with a tropical meets art deco vibe.
Karma Spa centres on a trio of luxury spa shacks suspended at the edge of a vertiginous cliff, 80 meters above the Indian Ocean. A glass walled infrared sauna is the perfect detoxifier, especially when followed by a soak in the cliff hanging Himalayan salt bath.
Poised on the tip of an 80m crag, destination restaurant di Mare's dramatic location is matched by its architectural audacity – a dining room set out beneath a contemporary high tensile pavilion like a sail, framing the blue on blue vista of the ocean.