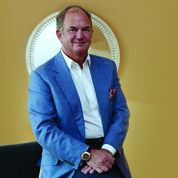 As a previous multiple winner of this award, John Spence sets the bar high in entrepreneurial standards for the shared ownership and luxury accommodation sectors and beyond. Never satisfied, John's relentless pursuit of excellence in innovation sees him achieve surprising new heights with each and every year.
As Chairman and Founder of Karma Group, John has overseen his company's rise to become one of the largest independent travel and lifestyle brands in the world outside of North America and 2019 saw Karma Group celebrate 26 years of operations. The Group is currently operating 33 resorts in more than 10 countries, including Australia, France, Germany, Greece, India, Indonesia, Thailand, Vietnam and the United Kingdom. There are currently five properties in development and the Group is negotiating three separate acquisitions in Scotland (a golf resort), Cyprus, and Bulgaria.
Karma Group operates four resort brands throughout the world: Karma Resorts, Karma Estates, Karma Retreats and Karma Royal. It sells and manages vacation ownership resorts (as points clubs), luxury resorts and hotels (sold as whole ownership, fractional ownership and hotel room nights). The Karma Group also operates its own beach clubs, restaurants and bars, spas, specialty retail outlets and three call center operations in Bangalore, Athens and Cebu.
Currently, John oversees three global divisions; Asia and Australia; India and the Middle East; and Europe and Caribbean. The company has zero debt or leverage and is still 100% owned by John. It is the market leader in its field and is poised for dramatic growth with future projects providing a global reach and an array of distinctive destinations beyond any other boutique hotel group in the world today.
This year, Karma Group announced the acquisition of the East Clare Golf Village in the village of Bodyke in East Clare County on the west coast of Ireland, whilst making a return to Thailand's Koh Samui with the opening of Karma Apsara, a tranquil oasis located on the pristine coconut grove slopes of the fabled holiday island. Karma Reef, on the Indonesian island of Gili Meno underwent renovations following the earthquake that struck in August 2018 and reopened in 2019 with a brand-new Karma Beach restaurant accompanied by Tiki Bar, a beautiful Karma Spa Tent, One-bedroom Sea Front and Sea View Tents and One Bedroom Sea Front Bungalows.
Continuing John's love affair with India that began 26 years ago, Karma Group announced the opening of Karma Sitabani, in the Jim Corbett National Park, part of the Corbett Tiger Reserve in the picturesque heartland of Uttarakhand in Northern India. Karma Group has 7 premium properties in India, from Goa to Jaipur, Dharamshala, and Kerala; all of them capturing the unique magic of their locations. Now, Karma is looking to further expand into the Western and North-Eastern regions of India, with an eye specifically on Gujarat. Other areas on the radar are in the south such as Coorg, Pondicherry and Chennai, as well as Sri-Lanka.
In 2019, Karma Group celebrated 26 years of operations in India. Marking this milestone, John Spence awarded the Preverger Penguin Prize Scholarship to several talented students from Christel House India in Bengaluru. Karma Group is known for its commitment to making a difference to the society at large and has been supporting this organisation since its inception. Karma Group has empowered these students to pursue their dreams of tertiary education by removing the financial barriers in their path. These students are given the opportunity to become a part of the fabric of India's future in business and the community, transforming their lives forever.
In 2016, Karma Group and Sanctum Hotel Group announced a joint venture to develop a series of authentic rock 'n' roll styled and orientated hotels in strategic locations around the world, accompanied by an exclusive private membership club, now with over 85,000 members. Plans have been developed to build Karma Sanctum Bali, joining Karma Sanctum Soho in London and Karma Sanctum on the Green, Royal Berkshire, in the English countryside. In 2019, the joint venture announced the launch of Mole & Badger Restaurant Bar & Wine Emporium, located within Karma Sanctum on the Green in the picturesque English village of Cookham Dean.
In 2019, John was honoured by the Yale University School of Architecture by being appointed the Edward P. Bass Distinguished Visiting Architecture Fellow for the second time, marking the first time the same person has been appointed more than once. John taught graduate level advanced studios alongside the renowned architects Patrick Bellew, Henry Squire and Tim Newton. They are using Karma Group's resort on the Indonesian island of Gili Meno, Karma Reef, as a test site for the students who will be challenged to design a resort on the island to be sustainable, economically viable, architecturally exciting and as resilient as possible to earthquake, tsunami and natural disasters. Although mostly teaching at Yale, John brought the architects and students to Karma Kandara on Bali, and Gili Meno, to better understand the local environment and conditions.
In 2018, John was welcomed at three prestigious universities; UCLA, Yale and the University of Pennsylvania. In April, John and Georgina Huljich of P-A-T-T-E-R-N-S tasked 14 masters' students from the University of Pennsylvania to design a 40-room hotel for a piece of land in Mykonos, Greece, owned by Karma Group. Spence worked with the students during the entire process and even sponsored a research trip to Mykonos. In October, Spence spoke to MBA students at the Yale Business School about international real estate and the current trends happening in the hospitality industry.
2019 also proved to be successful for the Karma Group when it came to winning industry awards. Karma Group and its Chairman won multiple Perspective Magazine Awards which were held during the GNEX 2019 Conference at Baha Mar, Bahamas on February 27th. Karma Group was honored with Best Hotel/Resort Development in Europe for Karma Minoan, Crete and Best Exterior Design and Interior Design for Karma Kandara, Bali. For the third year running John Spence won for Entrepreneur of the Year, for his continued work at the helm of one of the most successful resort groups in the world. Finally, two shining stars at Karma Group's India sales office were awarded. At only 23-years-old, Nihan Rebello earned the Best Newcomer Award, and Suleman Ahmad won the award for Best Sales Professional.
In 2019, Karma Kandara, Bali won the Best Interiors Award at the prestigious American Resort Development Association (ARDA) Awards Event held in Orlando, Florida. The award is a reflection of Karma Kandara's ambitious design approach and the range of unique spaces that guests can enjoy within the resort – from a secluded Swiss Family Robinson style luxury beach club to a cliff top canopy restaurant to Balinese inspired garden compound villa residences – all in one of the most breathtaking oceanfront locations on earth.
With a common outlook towards all opportunities, John believes that there is always a unique strategy designed to deliver the maximum outcome, whether in the form of a fresh, innovative beginning, an enhancement to an existing model or simply taking an established platform and maximizing it through community partnerships and the introduction of external networks.
John's philosophy is that work should be taken seriously and be profitable, but like sport, be fun, challenging and something you do for enjoyment. This is why he is a prime candidate for this award and why he has been recognized as an excellent judge of entrepreneurship himself. A former winner of the Ernst and Young World Entrepreneur of The Year Australia Award, John has also been a member of the award's global judging panel. Being recognized as a leader by his entrepreneurial peers across all industries worldwide is a testament to John's relentless pursuit of the next great challenge.
John Spence has the unique talent to break down as yet unseen barriers, whether spotting and acquiring land in areas still undiscovered that later become global hot spots, to creating a new five-star experience and brand philosophy that has changed what staying in a five-star resort means. To win would be a crowning achievement for an entrepreneurial titan who has singularly challenged so many established boundaries to create opportunities, not only for himself, but for those many people he works with and for every day.
What's on the agenda for John Spence and Karma Group in 2020? One thing that is certain is that the future looks bright as they continue to set industry benchmarks driven by John's passion and innovation in providing new products to engage Karma's over 60,000 members and loyal clients all over the globe.