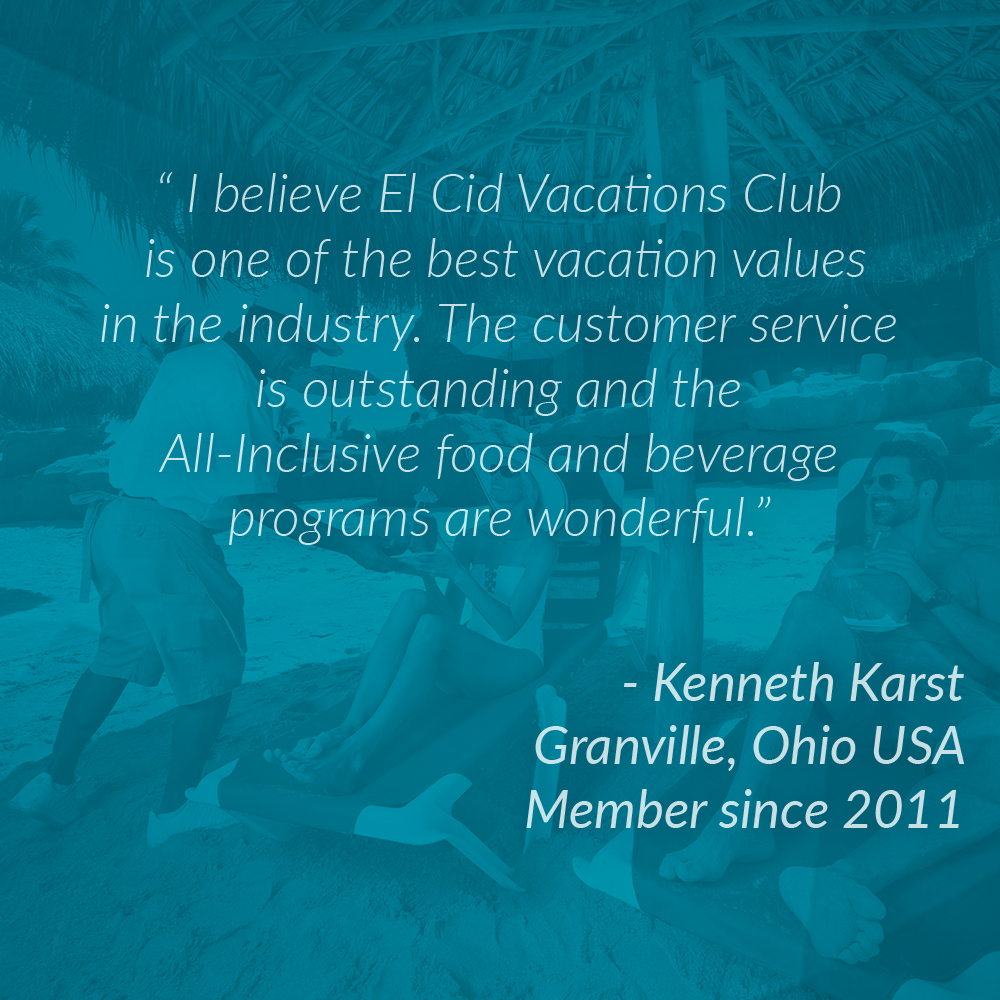 "Home is where the heart is", and for many of El Cid Vacations Club members that translates to their home resorts in Mazatlán, Puerto Morelos or Cozumel. In modern day there tends to be a ton of media coverage that can make or break a business. For more than 40 years El Cid Resorts Group is and continues to be a leader in the hospitality industry learning and growing as the world evolves. Nowadays media has expanded into the digital world with more presence and accessibility to all, becoming either an enemy or an ally. So how can this media be used to our advantage to translate and evoke a real sense of belonging and a real sense of care, along with legitimate credibility from experts in the field and international media giants?
The concept behind "What the media says…"(WTMS) does just that. Taking a relevant editorial piece, article, podcast segment etc., extracting a powerful quote (factual statement or opinion) while simultaneously supporting it with a member's direct testimonial. All this information beautifully and strategically concocted into a monthly based campaign including an email blast, social media organic posts, landing page traffic and video testimonials. The objective of this campaign is credibility, and behind this campaign laid the challenge of merging the external media world opinion with our internal world of testimonials, surveys, feedback and recognitions. The material topics and themes range from focusing on the amenities and accommodations, food options and quality, location of destinations and facilities, service, activities, you name it! And fortunately for us our members' testimonials also vary and range amongst that same spectrum. The challenge was conquered with these various media materials:
• Monthly WTMS email blast: Email pieces utilizing a testimonial quote from a member, alongside an editorial citation relating the topic at hand in a supportive comparison.
• Organic posts: i. During the same month, material used for the email blast is as adapted to fit a FB organic post format for social media exposure. ii Separately a written testimonial whether it'd be the same material used for the original piece or a different testimonial, is then incorporated onto a "slide" type format and also posted on social media focusing only on the members' testimonial.
• Landing pages: i. "If it matters to you, it matters to us": A landing page within the official ECVC website created to showcase testimonials. ii."Press Room": A landing page within the official ECVC website was created to list and showcase all editorial material that include a mention relevant to El Cid Resorts Group or any of the destinations being Mazatlán, Riviera Maya or Cozumel.
• Video testimonials: Production of video interviews featuring couples or individuals who are ECVC members, sharing their anecdotes and stories of how they became members, what they enjoy most about their membership and benefits, their personal purchase journey etc. Not only does ECVC gain official and maximum exposure due to the different channels at hand, but more importantly our members experiences are shared within the ECVC family community and beyond; coming forth from a genuine and first hand point of view making it relatable to all, also adding to the assurance that the right choice was made when a guest decided to buy and become a member.
Testimonials are used by many companies in many industries; paid writers and influencers often play a part within the credibility strategy of most. Not here. El Cid Vacations Club thrives on top-notch amenities and accommodations and paying close attention to details and service. With this marketing campaign we believe we were able to bridge the gap between sometimes presumed to be pretentious and surreal reviews, opinions and mentions from media outlets and reinforce them with real, honest, genuine and first hand testimonials from members who express that same content. Efforts, time, and thinking outside the box was required to manifest these tokens of appreciation for members and press alike. This is our answer and confirmation that we are in fact listening and acknowledging their comments and feedback and making use of the material out there to expand our brand.
Results have proven this continuous campaign to be successful not only in open rates but in audience engagement as well. Members are excited to read about their home resorts being mentioned in big and smaller publishers, they're excited to share and read their own experiences and those of fellow members. The cherry on top; with the standard demographic of vacation club members being ages 50+ we are also proud to be part of their evolution into the digital world. Subtly directing them to click a link and navigate the web, view a video on you tube, or engage on our social media platforms. Because of these triumphs we feel El Cid Vacations Club deserves the award for Best Marketing Campaign. "