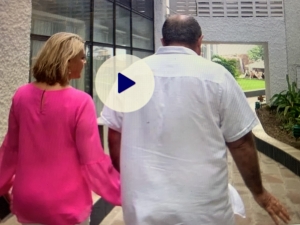 In advertising and marketing it is absolutely necessary to persuade the potential clientele into agreeing that the product and/or services offered and provided as a brand are the absolute best in the field. Taking our specific demographic into consideration and evaluating that many of our members are still becoming familiar and continue to learn how to navigate online with digital media and social media platforms, we decided that a smooth way to engage our audience with online media this past year was through the production of videos. El Cid Vacations Club took up the task of producing a series of "video testimonials" to visually illustrate different stories of what it is like to become part of ECVC. As our nominee for "Best Online Media" we have chosen our video testimonial project, focusing on 4 specific videos.
1. "Once Upon a time" is a video shot in El Cid La Ceiba Beach Resort in Cozumel. It features a family of four: mom, dad, daughter and son vacationing while enjoying many of the accommodations on the property and simultaneously being mesmerized by many of the elements that organically come along when vacationing on this beautiful island. The video is narrated by the little girl in a first person point of view and also shot in a first person perspective. The video was produced in-house using paid models/actors.
2. "Our second home" was a special testimonial video in itself, honoring and giving those employees who have spent almost a lifetime working for El Cid Resorts. Staff with the most time working for the company was interviewed to share how they felt about being part of the ECVC family and what has kept them here for so long. This video is very emotional and a powerful video that really captures the union between ECVC as a company and its employees.
3. "Being part of the El Cid family" is a video shot at the El Cid Marina Beach Resort and Yacht Club in Mazatlán. This video features a real life couple who are platinum ECVC members. Shot as an interview this video leaves way for the members to express and share their personal buying journey. They comment on some benefits they enjoy which are included in their membership, and aside from service they share what really enamored them to buy, the facilities. The video showcases the quality of amenities and accommodations.
4. "La magia de Mazatlán" (Malacon family testimonial). This video focuses on Mazatlán as a destination and features a well-traveled couple who share why El Cid in Mazatlán is their home away from home. They share details of enjoying festivities, food, music and sunsets in Mazatlán but emphasize on how service, quality and staff hospitality create that home feeling they get when they are here. This video was shot in house at El Cid El Moro Beach Resort with a real life couple who hold a Millionaire membership level.
The strategy behind these videos were not only to promote ECVC and the destinations at hand, but more so to relay and transmit the message that when you join the club you become part of an extended family that will tirelessly work to make sure members and their family are taking away wonderful and meaningful experiences and relationships that will last a lifetime. We believe these videos and the way they were shot give off the genuine feeling of complete satisfaction. They evoke a sense of belonging and propose our resorts and destinations as being the perfect scenario where bonds between parents and children, husband and wife and just as important staff and guests can strengthen and grow. We feel that this video testimonial project helped, and more so these 3 particular videos, expose the viewer to the personal relationship between business and customer. The interests and commodity of members is paramount and priority for El Cid Resorts as a business.
This project was not solely produced to market and advertise ECVC to generate sales; they were produced to assure members and potential clients that they are indeed in good hands when they vacation here. That the company they have invested in also reciprocates investment in them making sure guests and members are being heard and that their needs are being met. The videos pertaining to this project were freely distributed among various outlets. They were incorporated and used for monthly Newsletters, continuous Marketing campaigns (like What the Media says…), social media platforms, ECVC official websites, and are internally playing in sales rooms, member services centers, lobbies and VIP lounges. These videos incorporated into the way we communicate with our members online were and are a most viable option to getting our specific audience engaged with media online only asking our audience to simply click play. "