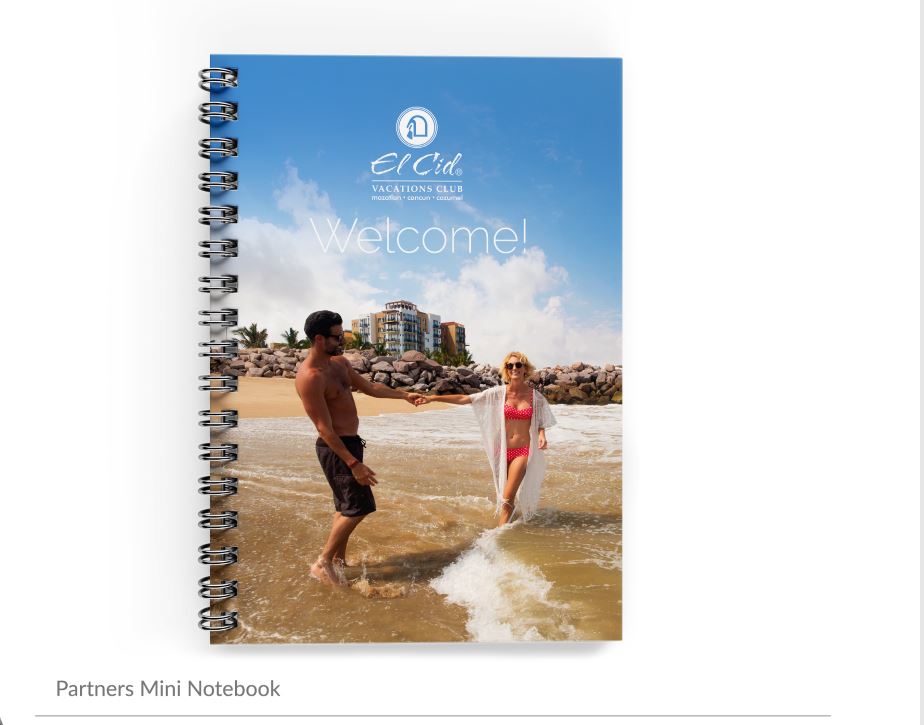 Some will go for a flashy brochure, and that's fine. Others will submit an over the top catalogue, and that's great. But for us, El Cid Vacations Club, we decided to submit a small, practical, simple yet absolutely useful mini notebook as our "Best Print Media" nominee. Let's start by explaining why we chose this mini notebook and without offending, insulting or making any other nominee feel less than, why we did not op for a different item like the ones previously mentioned. Brochures and flyers end up ripped up, crumbled and sometimes on the floor. Even worse, they can sometimes become that "this is what was handy" to soak up that spilled coffee at home, in the office or in the car! Oh no, not our mini notebook. Let´s face it times have changed and the world has gone digital and techy on us, however there are still plenty of us who prefer to use a pen and paper for note taking as opposed to a lap top, electronic notepad, or smart phone.
This particular notebook does not only fulfill that purpose of having where to jot down notes. This notebook serves a much more important role. It was designed as a "goodie" to gift our affiliated partners for their call center agents during trainings, conferences and fam trips. The small notebook is sized at 5×7 inches, composed of a hard front cover and hard back. It begins with 8 illustrative and informative pages front and back (16 pages total) that include: a welcome message, a map illustrating direct flights to the featured destination; in this edition the destination being Mazatlán, a 12 month calendar, separate images and fact sheets describing the highlight features of each and all 6 ECVC resorts in all three of our beach destinations, and a page dedicated to promoting the ECVC app along with a friendly reminder for agents to make use of the ECVC official partners website (website designed to provide our affiliated partners and their call center agents access to general information regarding ECVC). Last but certainly not least the spiral bound notebook is complete with 80 graphed pages, each front and back discretely including a small footer providing the specific ID code for each property assigned by the affiliated company.
The notebook visually appealing in design forces the eye to turn and pay attention to the splendid image of a couple blissfully sharing a laugh on a beach… feet in the water, bright blue skies and our beautiful El Cid Marina Beach Resort and Yacht Club in Mazatlán as a backdrop. Inside the first pages and after a motivational welcome message, agents have resort information readily available of each facility. Each fact sheet describes the accommodations and features at each resort also including a few extra bullet points serving as pluses as to "why stay here" tips. Each resort of course accompanied by a corresponding lifestyle image to really transmit what each facility has to offer.
We also chose this notebook as our nominee because of its practical use. When sitting at a desk on the phone in full conversation assisting a client with their booking and totally engaged in the chat, a powerful tool and resource is already at hand. No need to log in or explore online to scan for information, the organized info is ready to go. Checking for dates? No problem, flip to the calendar page and you've got all the potential dates available. No need to put the client on hold to find the booking ID, in case agents have reached the point of booking then and there, each ID is front and center.